Maharashtra is a culturally rich state of India. With the rich culture, history, food, and famous places, Maharashtra has always been the best Indian state. With big cities like Mumbai, it is one of the wealthiest states in India. As people have money to spend, they do spend it on the Gold and food. We will stick with Gold here as I am not a food blogger.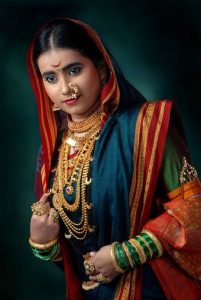 As Maharashtra has a rich culture, the Maharashtrian traditional Jewellery is an integral part of the culture. With thick gold Mangalsutras, Kadas, Nathnis, and whatnot, Maharashtrian jewelry has always lured the women. In this post, we are going to discuss Traditional Maharashtrian Jewellery.
Maharashtrian Traditional Jewellery
Maharashtrian women love to wear traditional jewelry than modern jewelry. The thin and contemporary designs are not preferred by Maharashtrian women, as they prefer Thick jewelry with intricate designs. Here, we are listing some of the Best Maharashtrian Traditional Jewellery items that you can buy from any famous jeweler.
#1 – Nath or Nathni –
Nath is the smallest yet the most important Jewellery in Maharashtrian Culture. In other parts of India, Nath is known as Nathni, but other states won't find it as important as Maharashtra. Nath or Nosepin is intricate jewelry. Most of the Nosepins are made with Gold wires, Pearls or other gemstones. Without the Nath, no Maharashtrian Women's traditional attire is complete.
#2 – Mohan Mala –
Mohan Mala is the most traditional piece of jewelry in Maharashtra. Being used for centuries, it's still popularly used in the auspicious functions like Marriages and on the occasions of Festivals. Mohan Mala is nothing but the necklace, which is made with thick gold beads. The beads are shaped like the Pearls and a woven into the thin gold wire. It's a traditional Maharashtrian Necklace.
#3 – Lakshmi Haar –
Lakshmi Haar holds the importance in all of the religious ceremonies in Maharashtra. The Lakshmi haar is nothing but the coin necklace. Instead of beads, it consists of the flat coins made of Gold. Lakshmi haar is a favorite of Goddess Lakshmi and has the intricate designs of Goddess Lakshmi and Lord Ganesha. Most of the time, it is presented to the Goddess Lakshmi in the temple and wore by the eldest lady of the house on auspicious occasions.
#4 – Raani Haar –
Raani haar is literally translated as Queen's Garland. This piece of jewelry is made with the Gold and pearl. The three layers of Pearl strings with the pendant in the middle is the identifier of Raani haar. It is worn on the Pithani Saari as it compliments the look. Usually, women wear the Raani Haar set, which consists of the main necklace, earrings, and another necklace made with Gold beads.